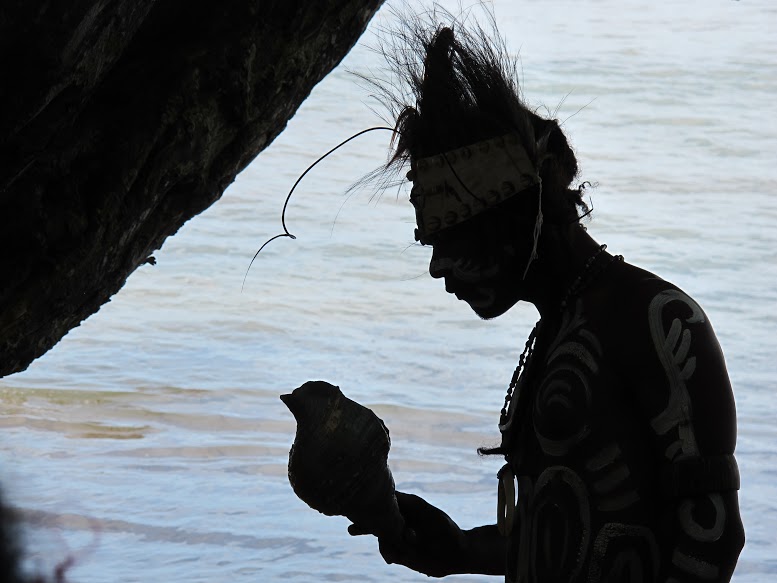 Papua and West Papua are the two most easterly provinces of Indonesia, referred to collectively as 'West Papua'. Previously called Irian Jaya, West Papua had a predominantly Christian, Melanesian population (96% in 1971), but its society is now made up of equal numbers of Papuan people and migrants from elsewhere in Indonesia. Considerable social tension exists between the two groups as migrants dominate business and economic opportunities and get most of the jobs. Traditional people are also losing their land as large companies set up agri-business projects such as plantations with little compensation for locals. Papuan people are becoming agricultural labourers on the lands which they once owned, and where they and their ancestors have lived for thousands of years.
West Papua was part of the Dutch East Indies Empire which once ruled what is now Indonesia for 350 years. Pushed out by the Japanese during World War Two, the Dutch failed to reassert their authority after the war except in West Papua. In 1949, Holland ceded sovereignty to the newly independent state of Indonesia overall its former empire, with the exception of West Papua. The Indonesians thought that they were to gain control of this region; however the Dutch soon announced plans for West Papua to become an independent nation in its own right. Military conflict ensued with an attempted invasion by Indonesian forces in 1960. While this was rebuffed by the Dutch, Indonesian diplomatic maneuvering proved far more successful, gaining the support of the United States. The US did this to counter moves by President Sukarno to build closer ties with the Soviet Union. Cold War imperatives took precedence in American foreign policy over all other issues, including the Papuans' political right to self-determination.
In 1962, the New York Agreement was signed by the Dutch and the Indonesians under US sponsorship which handed control of West Papua to the Indonesians with the condition that a plebiscite (referendum) be held to obtain the consent of the Papuans for incorporation into Indonesia. Arguing that the Papuans were too "primitive for a normal "one person, one vote ballot, 1022 appointed representatives were forced to universally cast their vote for Indonesia. The curiously named "Act of Free Choice" was finally conducted in 1969 and the outcome accepted by the United Nations, which duly transferred sovereignty over West Papua to Indonesia. The Act of Free Choice has never been regarded as legitimate by the Papuan people, many of whom still feel that their right to self-determination has been stolen from them.
Even before the 1969 'plebiscite', resistance and violence had broken out. An armed resistance movement with the Organisasi Papua Merdeka (OPM or Free Papua Movement) representing the vast majority of the West Papuan people and their desire for their own independent state, fought the Indonesian military in pitched battles that left thousands dead. The OPM, armed mostly with bows and arrows and a few modern rifles, were no match for Indonesia's modern army, and large scale resistance gave way to small guerilla groups operating deep in the jungle. Opposition to Indonesian rule continues today, although much of it is now urban-based and pursues a non-violent, civil-rights agenda wherein Papuan leaders, including a new generation who are well educated and technology savvy, demand their political rights, including the right to self-determination.
While the Papuans were very much the majority in 1969, they are now slightly outnumbered by migrants from elsewhere in Indonesia who have moved to the provinces under massive government-sponsored transmigration programmes, along with spontaneous migrants searching for a better life. In the towns, the majority of the residents are non-Papuans, whereas, in large areas of the highlands and elsewhere, the population is still predominantly Papuan.
The ongoing conflict has resulted in large numbers of Indonesian military (TNI/Tentara Nasional Indonesia) personnel being based throughout West Papua and effectively engaging the region in an armed occupation. While Indonesia has made huge democratic gains since the fall of the Suharto dictatorship, these gains have not spread to West Papua, which remains under the firm grip of the TNI. As such, corruption is rife and human rights abuses are common. In 2001, in a bid to address Papuan grievances, Special Autonomy (Otsus) legislation was introduced by Jakarta, which was supposed to give the Papuans a measure of control over their own affairs as well as increased level of funding. However, this legislation was only partially implemented and has not resulted in actual improvement in critical areas such as health and education, but has instead substantially increased corruption.
Large scale economic development is taking place across West Papua in the form of logging, agricultural plantations, mining, and gas extraction. The Papuans possess very weak or non-existent land rights, and many are losing vast areas of land with little compensation. Everywhere this is creating conflict and hardship for local people. Although a significant number of Papuans work in the public service, senior positions are mostly held by migrants while most private sector employment is low paid. Business and economic activities are dominated by non-Papuan migrants.
Education and health services are very poor in most regions with very few doctors, medical staff or teachers who actually turn up for work. West Papua is the area of Indonesia worst affected by HIV-AIDS. The existing circumstances push Papuans to remain poor, and subjected to lack of education and deprived of health facilities compared to other regions in Indonesia, even though their province is one of the richest in the country in natural resources. All these obvious disadvantages and contradictions are fueling disaffection with the government in Jakarta amongst The Papuans and strengthening widespread demands for West Papua's independence. These calls generally fall on deaf ears in the international community, which is keen to build closer ties with Indonesia, the world's largest Muslim nation and the third biggest democracy in the world.

Latar Belakang
Nyanyian Sunyi dari Ujung Timur Indonesia
Papua, dulu dikenal dengan nama Irian Jaya, wilayah paling timur Indonesia ini menjadi rumah bagi warga ras Melanesia yang sebagian besar memeluk agama Kristen. Seiring banyaknya kaum pendatang dari berbagai daerah di Indonesia, perbandingan orang asli Papua dan pendatang yang didominasi beragama Islam kini berimbang. Ironisnya, para pendatang mendominasi kehidupan bisnis, ekonomi, dan lapangan pekerjaan yang tersedia. Sementara  warga setempat kian terusir dan kehilangan tanah leluhur mereka karena dibeli oleh perusahaan-perusahaan besar untuk mengembangkan agrobisnis. Orang asli Papua pun menjadi buruh tani, di tanah yang dulunya mereka miliki dan tempat leluhurnya dihilangkan selama ribuan tahun.
Kontroversi
Beragam intrik dan kontroversi mewarnai perjalanan sejarah Papua hingga yang kita kenal sekarang. Merupakan bagian dari Kerajaan Hindia-Belanda pada masa penjajahan, Jepang mengambil alih ketika masa Perang Dunia II. Namun usai perang, Belanda kembali merebut Papua, meski gagal mengukuhkan kembali kedudukannya di Nusantara. Hal ini ditekankan dalam Konferensi Meja Bundar tahun 1949, yang menetapkan Belanda menyerahkan kedaulatan penuh pada Indonesia, kecuali Papua. Pemerintah Belanda kemudian mempersiapkan kemerdekaan Papua, yang ditentang oleh pemerintah Indonesia. Papua kemudian menjadi wilayah yang diperebutkan antara Indonesia dan Belanda.
Kekuatan militer tak terelakkan. Pada tahun 1960, militer Indonesia masuk ke Papua  dan berhadapan dengan Belanda untuk merebut Papua. Sementara itu, langkah diplomatik Indonesia berhasil mendapat dukungan dari Amerika Serikat. Akhirnya, pada tahun 1962 dihelat Perjanjian New York yang disepakati bersama oleh pemerintah Indonesia dan Belanda, dengan dukungan AS. Perjanjian tersebut menghasilkan keputusan bahwa Papua  dikontrol oleh Indonesia dengan syarat harus segera menyelenggarakan referendum (pemungutan suara untuk menentukan status daerah), yang kemudian dikenal dengan peristiwa Pepera (Penentuan Pendapat Rakyat).
Akhirnya pada tahun 1969, referendum dilakukan. Dengan anggapan orang asli Papua terlalu primitif untuk sebuah pemilihan umum normal—satu suara mewakili satu orang—maka 1022 orang ditunjuk sebagai perwakilan. Hasilnya, Papua kembali masuk ke dalam bagian Indonesia. Hasil referendum ini mendapat pengakuan dari Perserikatan Bangsa Bangsa, meski banyak yang memandangnya tak sahih karena tidak sesuai hukum demokrasi. Setelah Pepera, rakyat Papua ternyata tetap tak menikmati kedaulatan dan banyak yang merasa kemerdekaan telah dirampas dari tangan mereka.
Namun sebenarnya, sejak sebelum Pepera, berbagai aksi penolakan dan kekerasan telah berlangsung. Organisasi Papua Merdeka (OPM) muncul dan menyuarakan  suara rakyat Papua untuk lepas dari Indonesia. OPM secara terbuka melawan militer Indonesia yang menelan ribuan jiwa. Dengan bermodalkan panah, tombak, dan senjata modern dalam jumlah terbatas, OPM menghadapi militer Indonesia yang telah dipersenjatai lengkap. Hingga kini, perjuangan masih terus berlangsung, meski tak melulu dengan mengangkat senjata. Teknik gerilya di hutan-hutan berganti dengan cara diplomasi yang menghindari kekerasan dan lebih fokus pada hak asasi manusia. Papua kini dipimpin oleh generasi muda  yang telah mengecap pendidikan tinggi, melek teknologi, dan berusaha menuntut hak politik bagi warganya, termasuk hak menentukan nasib sendiri.
Kehidupan sosial dan ekonomi
Perjuangan memang belum usai. Orang asli Papua kini kian tersingkir oleh kaum pendatang. Dari yang menjadi warga mayoritas pada tahun 1969, gelombang transmigrasi yang berlangsung secara sistematis menggusur warga asli Papua ke daerah pegunungan dan pedesaan. Wilayah perkotaan kini berganti rupa dengan dominasi wajah Melayu. Status daerah operasi militer akibat konflik berkelanjutan membawa pasukan TNI (Tentara Nasional Indonesia) ke seluruh wilayah Papua. Ketika Indonesia mengecap derasnya arus kebebasan dan demokrasi sejak jatuhnya era Orde Baru, rakyat Papua bergeming. Mereka tetap hidup di bawah cengkeraman militer.
Sementara itu, pembangunan ekonomi berskala besar berlangsung di seluruh Papua  lewat industri penebangan kayu, perkebunan, pertambangan, dan ekstraksi gas. Meski bersifat masif, pembangunan ekonomi itu hanya menyentuh sedikit kehidupan orang asli Papua. Tak sedikit memang yang bekerja di instansi publik, tetapi jabatan tinggi umumnya dipegang oleh kaum pendatang. Sementara kebanyakan lapangan pekerjaan di sektor swasta yang tersedia berpenghasilan rendah. Aktivitas bisnis dan ekonomi tetap didominasi oleh warga non Papua dan warga asli Papua, sang empunya tanah, hanya mendapat kompensasi kecil.
Di sisi lain, masalah kesehatan menjadi pokok lain yang menuntut perhatian. Jumlah penderita HIV-AIDS yang berkisar dua persen (data masih dapat berubah) menjadikan Papua wilayah dengan jumlah penderita tertinggi di Indonesia. Sementara pelayanan kesehatan pun jauh dari harapan karena jumlah dokter dan tenaga medis amat terbatas. Tak ubahnya dengan kesehatan, dunia pendidikan, yang membutuhkan penanganan serius. Selain jumlah tenaga guru yang terbatas, masalah lokasi maupun dana menghambat kehadiran guru untuk hadir teratur. Semua ini menyebabkan Papua —yang didapuk sebagai wilayah dengan sumber daya alam paling kaya di Nusantara itu—menjadi wilayah dengan tingkat pendidikan, ekonomi, dan kesehatan terburuk di Indonesia.
Tak ayal, seluruh kondisi ini memunculkan ketidakpuasan yang terus memuncak terhadap pemerintahan pusat di Jakarta. Tuntutan untuk lepas dari Indonesia kian kerap terdengar. Namun teriakan ini seolah dianggap angin lalu, tak hanya oleh pemerintah pusat tetapi juga komunitas internasional. Teriakan mereka boleh tak didengar, namun kehidupan berjalan terus. Serangkaian video ini menampilkan perjuangan hidup warga asli Papua menghadapi situasi tak bersahabat. Hidup tetap bergulir ketika politik hanya menjadi sebuah ajang debat kusir. Inilah sepenggal cerita orang asli Papua mengungkap kehidupan yang sesungguhnya, untuk membantu kita tak hanya mendengar, tetapi juga memahami mereka.