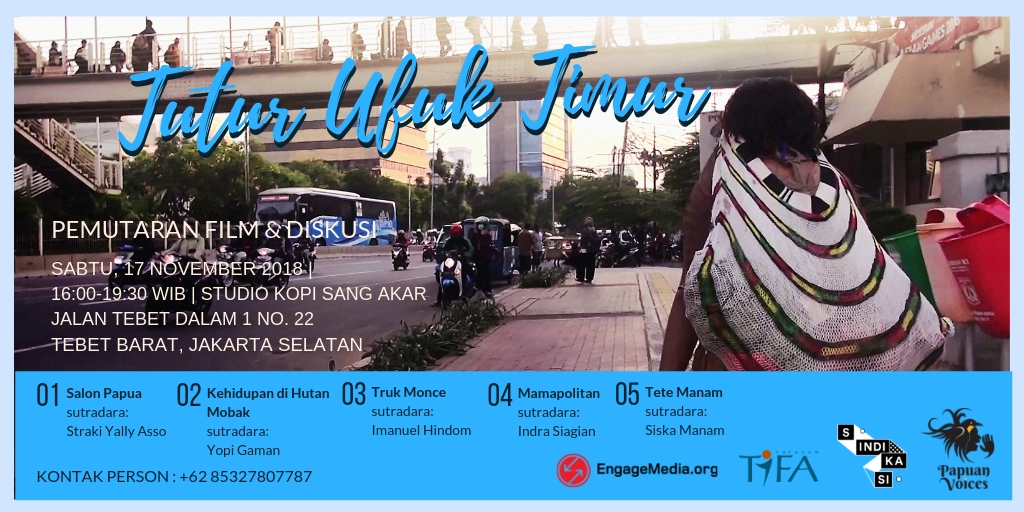 EngageMedia, in collaboration with Papuan Voices and several other communities in six major cities in Java,–Jakarta, Bandung, Yogyakarta, Solo, Salatiga, and Semarang–will be screening films from Papua on 17-26 November 2018. These are award-winning films created by Papuan youths, that were showcased in Papuan Film Festivals and deal with social issues such as education, health, food security, and gender equality. The selected films highlight the problems that occur every day in Papua, and various stories about Papuans all over  Indonesia.
The purpose of this event is to bring important issues in Papua closer to the general public in Indonesia, especially to those who reside in Java. Because of the lack of information, people outside Papua usually develop a false impression of issues and problems that occur in Papua, which result in a skepticism towards the Papuans. Generally, the people outside Papua do not get first-hand accounts from Papuans on issues and problems that are highlighted in the mainstream media.
Since 2010, EngageMedia and the Papuan Voices community have been collaborating in arranging training programs in Papua to teach film-making to local youths. In 2017, the Papuan Voices community was successful in hosting the Papuan Film Festival in Merauke, the first independent film festival held in Papua.
The Papua Film Festival is considered as a benchmark for the film movement in Papua. Documentary films that were screened during the festival encouraged young Papuan filmmakers to continue making films that show their struggles as a people. The storytelling tradition of the Papuan indigenous community helps those who were able to watch these documentary films to share its stories to wider and more remote communities. This builds awareness among the communities towards a variety of past and the present events in a dialectical process. It contributes to the collective effort of discussing civil, political, economic, social and cultural rights of the indigenous peoples in Papua; and helps initiate a movement towards environmental sustainability for future generations.
The 2nd Papuan Film Festival was held in August this year in Jayapura, Papua. Setting the theme as "Indigenous Papuans struggling in the face of modernisation", the festival aims to increase public awareness of the critical issues faced by indigenous Papuans, and emphasise their role on the economic and infrastructural developments in the Papuan region.
Papuan Voices consists of Papuan film-maker communities from different regions in Papua, namely Jayapura, Keerom, Wamena, Merauke, Sorong, and Raja Ampat. The community aims to produce and screen short documentaries about the Papuan region and its people.
Through these documentaries, these film-makers hope that their audience, inside and outside Papua, will be able to see them and their fellow Papuans through their eyes. It is anticipated that by watching these films, people in the Java will be able to look at Papuans from a new perspective, eliminating skepticism and encourage the audience to learn more about them and their culture.
The schedule of our screening across the six cities in Java:
Jakarta: 17 November 2018
Bandung: 19 November 2018
Yogyakarta: 20 and 21 November 2018
Semarang : 24 November 2018
Solo : 25 November 2018
Salatiga : 26 November 2018
You can find the synopsis of some of the films to be screened at the roadshow here.
Please follow the websites of Papuan Voices and EngageMedia, and our Twitter and Facebook accounts. For more information, please contact Pitra Hutomo at pitra (AT) engagemedia.org.
Engagemedia bersama dengan Papuan Voices dan beberapa komunitas di 6 kota besar di pulau Jawa yaitu Jakarta, Bandung, Yogyakarta, Solo, Salatiga, Semarang akan mengadakan pemutaran keliling film-film dari Papua pada tanggal 17 – 26 November 2018. Semua film ini adalah film yang dikreasi oleh anak-anak muda di Papua. Film – film tersebut bertemakan isu-isu sosial seperti pendidikan, kesehatan, ketahanan pangan hingga kesetaraan gender. Film-film ini menyoroti masalah-masalah yang terjadi di Papua dan cerita tentang orang Papua di berbagai tempat.
Tujuan kegiatan ini adalah untuk mendekatkan isu-isu penting di Papua kepada khalayak ramai di Indonesia khususnya di pulau Jawa. Alasannya karena selama ini masyarakat di luar Papua memperoleh gambaran yang keliru mengenai isu dan permasalahan yang terjadi di Papua dan menyebabkan perlakuan skeptis terhadap orang Papua. Hal ini disebabkan karena masyarakat di luar Papua seringkali tidak memperoleh gambaran lengkap dan informasi langsung mengenai isu dan permasalahan di Papua.
Sebelumnya, Engagemedia bersama komunitas Papuan Voices telah bahu- membahu (bersama – sama) menyelenggarakan banyak pelatihan hingga produksi film di tanah Papua sejak tahun 2010. Pada tahun 2017, komunitas Papuan Voices berhasil melaksanakan Festival Film Papua di Merauke, yang mana ini adalah festival film pertama yang diselenggarakan oleh Komunitas Papuan Voices.
Festival Film Papua diharapkan akan menjadi tolak ukur pergerakan perfilman di Papua terutama film dokumenter, memicu semangat para filmmaker muda Papua untuk terus berkarya dan menggerakkan nonton film dokumenter di masyarakat terutama di Masyarakat Adat Papua dalam upaya membangun kesadaran kritis masyarakat adat terhadap beragam fenomena masa lalu dan masa kini yang terjadi sebagai proses dialektika. Terutama dalam upaya pemenuhan hak-hak Sipol (Sipil dan Politik) dan Ekosob (Ekonomi, Sosial dan Budaya) Masyarakat Adat Papua dan kelestarian lingkungan untuk generasi masa depan.
Festival Film Papua Tahun 2017 telah diadakan di Merauke 7-9 Agustus 2017 dengan tema "Bomi Zai Anim-Ha". Artinya adalah rumah bersama manusia sejati yang menghidupi identitas dan ingatan kolektif Masyarakat Adat Papua yang berhubungan erat dengan alam dan membangun Bomi zai Tanah Papua.
Festival Film Papua yang kedua dilaksanakan pada bulan Agustus tahun 2018 di Jayapura. Dengan mengusung tema "Masyarakat Adat Papua di Tengah Arus Modernisasi", festival ini bertujuan untuk meningkatkan kesadaran masyarakat akan isu-isu penting yang dihadapi oleh masyarakat adat Papua, dan memperkuat peran mereka dalam pembangunan ekonomi dan infrastruktur di wilayah Papua.
Papuan Voices adalah Komunitas Filmmaker Papua yang fokus memproduksi dokumenter berdurasi pendek tentang Orang dan Tanah Papua. Filmmaker Papua hendak menyampaikan pesan-pesan kepada seluruh lapisan komunitas masyarakat di Tanah Papua, Indonesia dan Internasional untuk melihat Papua melalui "mata" orang Papua sendiri dalam bentuk film dokumenter. Sehingga diharapkan orang – orang diluar Papua dapat melihat dengan perspektif baru, menghilangkan skeptis dan mengakhiri ketidakadilan apapun terhadap orang dan tanah Papua.
Papuan Voices terbentuk Tahun 2011 ketika EngageMedia, Sekretariat Keadilan dan Perdamaian Keuskupan Agung Merauke (SKP-KAME), Justice Peace and Integration of Creation (JPIC) MSC Indonesia dan Sekretariat Keadilan Perdamaian dan Keutuhan Ciptaan (SKPKC) Franciscan Papua (FP) bekerjasama dan mulai melatih para filmmaker baru di Papua. Papuan Voices sudah memproduksi beragam jenis film dokumenter serta menyelenggarakan pelatihan-pelatihan untuk melahirkan para filmmaker di Tanah Papua. Saat ini Papuan Voices tersebar di 5 daerah di Tanah Papua, yakni: Jayapura, Keerom, Wamena, Merauke dan Sorong dan Raja Ampat. Jadwal pemutaran film di 6 kota:
Jakarta : 17 November 2018
Bandung : 19 November 2018
Yogyakarta : 20 dan 21 November 2018
Semarang : 24 November 2018
Solo : 25 November 2018
Salatiga : 26 November 2018
Untuk informasi lebih lanjut, silahkan mengunjungi link berikut Papuan Voices dan EngageMedia dan akun Twitter/Facebook kami, kontak person – Pitra Hutomo (pitra@engagemedia.org).